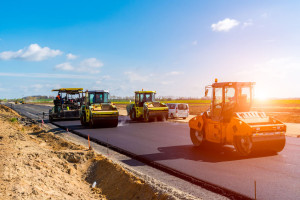 If you've ever been in the market for an equipment purchase of $150,000 or more, you understand the complexities of the decision. This type of capital-intensive investment isn't to be taken lightly, and you must weigh such a purchase against other needs of your business. There's no question you should evaluate your options and move forward based on a strategic framework that's right for you.
Although every company's path to a decision will vary, here are some questions you can ask yourself the next time you are evaluating a major financial investment. If your answer to one or more of these is "yes," it's time to seriously consider a major equipment purchase.
Is safety of my existing equipment a concern?
Every company's top priority is the safety of its employees and customers. As large equipment ages, it can encounter mechanical, technological and, in worst-case scenarios, safety problems. No organization wants an unexpected catastrophic failure of machinery that could jeopardize safety.
When you are evaluating a big purchase, consider what you'll gain in improved working conditions for those who will come into contact with the equipment. It's also a good idea to look two or three steps down the line from the use of that equipment. For example, if a machine is used to produce a product or source materials, how will the end user's experience with that product improve from a safety and quality assurance standpoint? Each year, large equipment is upgraded and made to function at a better, safer level.
Are there available tax benefits to purchasing this equipment now?
Depending on the tax code at the time of your purchase, there can be tax benefits to your business for purchasing large equipment before the new calendar year begins. Ask your CPA about Section 179 and bonus depreciation to see whether these are applicable to your situation.
Can our company save time using this equipment?
Large equipment can represent enormous time savings to your business. If your team is able to complete tasks more quickly while following all safety protocols, you're freeing up time for other activities. This might include completing jobs more rapidly or seeking out new business opportunities. Remember the old adage: Time is money.
What's holding us back?
Often, a little introspection can help you uncover needs or opportunities in your business. If you're hesitating on a big equipment purchase, consider the bigger picture. Are you concerned about paying back the purchase in a timely way? Uncertain whether there will be sufficient business to justify the purchase? Worried where the economy is headed? Once you've identified the sources of your uncertainty, determine the next one or two steps you can take to get clarity and move forward. If that exercise gives you greater peace of mind and certainty, it might be time to move forward with your equipment purchase.
At Commercial Funding Partners, we know all about the ins and outs of business equipment transactions. If you are considering your next big purchase, we can help you think through the challenges you are facing and the benefits you can experience by moving forward with an equipment purchase. We'll seek out the most viable cash-flow paths and get your deal approved. Funding the next big move in your business equipment fleet has never been easier.
To get started, give us a call at 801-545-4000 or email bzarbock@com-funding.com. We look forward to working with you.