Mastering the art of delivering a strong business proposal takes significant time, energy, planning and experience. At Commercial Funding Partners, our team takes the extra time to make you shine during your next conference call or in-person event. Our team has combined decades of experience and over $50 million in projects funded, and we're here to help you next. Here's how to develop a fool-proof business proposal potential clients and partners can't say no to: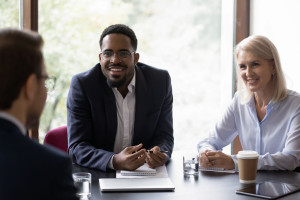 1. Play into emotions and storytelling
For this point, it's easier to show by doing, which is why we've decided to share this customer testimonial with you:
"Due to the size and complexity, I knew I needed hand holding through this process. After talking and forwarding my case docs to Bailey, his response to taking the next steps occurred within an hour – amazing. He shared his vision and expertise on how to approach the deal from a practical reality perspective. He asked me to let him lead and take a step back. On our conference call with my customer, Bailey's awesomeness came shining through. He weaved his conversation on the customers' family history and blended that history with stories of other similar companies and then delivered his proposal through that framework as opposed to here is the deal: take it or leave it.
I am very certain that if I had gone to my current lenders, I could not have gotten to this point where we made an offer to my client. Win or lose, in this case, I am convinced that Bailey is the man to be in the trenches with.
Jon, myself and most of your graduates are not experienced enough to get through complex leasing opportunities. You absolutely need to let your new graduates understand that Bailey is the person they need to take their larger complex deals to."
Be transparent
The biggest thing a new potential business partner appreciates in the proposal process is transparency. After presenting your polished executive summary and project details, be sure to accurately the project's budget and measurements for success. If a potential partner is able to see how much items cost right off the bat, they are able to give a clearer and more succinct answer of "yes, no or not right now."
Please visit our website or call (801) 545-4000 to start developing the right proposal for your business. We look forward to working with you soon to meet your business goals!