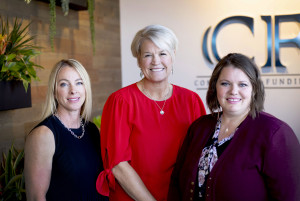 Women leaders bring qualities and styles of leadership to the workplace that their male counterparts don't always possess. Here at Commercial Funding Partners, we're proud of how our female colleagues have stepped up and risen to overcome challenges. That said, we want to highlight a few of our female powerhouses and their contributions to the firm:
Libby Johnson, executive vice president of sales
A consummate professional, Libby has been in the industry for more than 20 years and has led over a half-billion dollars of business over the years. She's an expert at structuring transactions for companies of all sizes, ranging from $20-million deals to more modest ones in the $150,000-$300,000 range.
We appreciate her flexibility and the effortless way she runs and manages the sales floor. Put simply, her role at CFP is key. She's very goal-driven and known to be tenacious and aggressive in all the right ways among her peers in the industry. On a personal note, she's a bodybuilder and always keeps her eyes on the prize.
Traci Dolphin, executive vice president
Traci is a natural in the business, having spent the lion's share of her career in the mortgage industry. A partner in the business, she's charged with ensuring operations run smoothly. She's direct, well-liked by banks and has an excellent reputation industry-wide for being tough but fair with customers and with funding sources. She's known for her excellent knowledge of how to understand complex transactions.
"Traci manages our strategic banking relationships and operations," said Buddy Zarbock, CFP president. "Our banks appreciate her thorough, fair work. She has a knack for business and a gift of structuring transactions that the market will fund but still good for the customer."
Kira Jones, documentation manager
Kira first entered the industry about 17 years ago and has quickly risen through the ranks. Detail-oriented by nature, she runs a tight ship and is responsible for overseeing all of the documentation at CFP. She manages a team ensuring that they perform functions with both speed and accuracy.
Perhaps, more importantly, she's approachable. A lot of our funding sources use us because they appreciate what she does. Her documentation expertise means that the work is thorough and well documented. She's very good at ensuring a seamless experience.
Another differentiating factor is that most documentation professionals are female, but most executives are men. Kira stands out in that way and we're proud of her for challenging the norms.
Her rapport with clients is also noteworthy. Here's just one example:
"The documentation team has been flexible," said Terry, one of our CEO partners. "I love working with the CFP group because I've worked with them and their competitors but they're the clear choice. I picked CFP because of their management team."
We're grateful to have these three women on board and can't wait to see what the future holds for them! At the same time, we're thrilled to be part of a segment of the economy that's becoming more inclusive. According to Deloitte, "the proportion of women in leadership roles within financial services firms has modestly risen from 22% to 24%. However, it is projected to grow to 28% by 2030. In 2019, that number was projected to be 31%. The gap further continues between women in senior leadership roles and in the C-suite, currently standing at 9% but likely to widen to 14% by 2030."