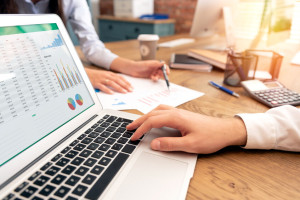 Tuning in to the business news can be a bit overwhelming these days, what with all that talk about a looming recession, inflation, gas prices and supply chain disruptions.
It's almost enough to send one screaming into the night. Almost.
But not quite.
Our nation has been through this before and recovered. We're going through it now and will recover. And when it happens in the future, we will again recover — each and every time. That's just how we're wired, thanks to generation after generation of a let's-get-it-done drive.
In the meantime, though, there are steps you can take to ensure that your business survives and thrives.
The first and most important step is to build a relationship with a loan broker. We're not talking about a relationship filled solely with niceties, but one that is solid and based on a strong understanding of your business as it was, as it is today and as you hope for it to be in the future.
Perhaps you've secured one loan with us. Perhaps you've heard of us, but haven't yet taken that all-important first step. Or perhaps you've worked with us more than once, but it's been a while since we've had the chance to reassess your situation.
We would encourage you now to rectify that situation.
Commercial Funding Partners has spent the last three and a half decades building relationships with lending houses and securing funding for our clients across a wide array of industries, including aircraft, car dealerships, construction, energy, finance, healthcare, hospitality, manufacturing, rentals, restaurants, technology and transportation.
We have secured for our clients millions of dollars in funding to purchase or rent specialized manufacturing and farming equipment, airplanes, heavy machinery, software and more.
We've helped established companies double their manufacturing capacity and provided the means for new companies to have reliable cash flow from day one.
It's time to let us help you.
If you work with us, we can promise you a few things.
We promise to take the time needed

to learn about and understand your business and your goals. As a result, we will be able to offer the financial guidance you need to survive and thrive in these challenging times.

We promise to build a relationship with you. We're not about one-time deals; that's not how we built our business. We will put our knowledge of the current loan environment to work for you so that you can attain your goals and stay on track.

We promise to secure loans that are competitive and beneficial to you.
Three promises that are worth their weight in gold.
Call us today at 801-545-4000 to learn more about how Commercial Funding Partners will help your business survive and thrive.