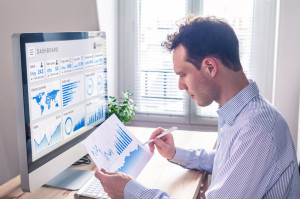 As a business owner, the thought of borrowing money to propel your company's growth can be downright terrifying – especially during this last year and a half of uncertainty. When it's time to step up and move your business forward, you may find yourself struggling with one key decision: Should I take out a loan to buy what I need?
Chances are, the answer is yes, but here are a few things to consider as you weigh that critical decision:
There is such a thing as "good debt". Really. Traditionally, good debt is defined as the debt one owes on items that help build wealth or increase income. Things like equipment, vehicles, warehouse space and more. (Bad debt, on the other hand, typically means credit cards or consumer debt that does not improve your financial outcome.) Handled responsibly, good debt should leave your business better off in the long-term, with no negative impact on your company's financial standing.
Business loans are used for a number of things, among them startup costs, working capital, inventory, equipment and expansion. Sure, you could use personal funds to start that business or use business savings to grow your business, but wouldn't you rather have the peace of mind that comes with having money in the bank?
Buying what you need, rather than putting off the purchase – or worse, renting indefinitely and letting someone else profit, can give you the tools you need to expand your business, which as we all know means more income over time.
Is your business impacted by seasonal shortages? If so, rather than relying solely on cash reserves to keep things moving – and possibly missing out on opportunities for growth that require ready cash – a loan may be the answer.
Holding on to the equity you've built in your business should be a huge consideration, since business borrowing to finance growth is likely to bring greater rewards to you, the owner. Also keep in mind that should you decide to ask others to invest in your business, you are beholden to them, not just to make money but to allow them to weigh in on how you do things.
The bottom line is this: There will always be a bit of nervousness when it's time to sign loan papers, but a carefully thought- out and constructed loan package can help your business survive and thrive.
Our core team consists of members who've built their own successful businesses, serve as advisers on boards of directors, and work each day to help companies like yours secure the funding they need to move their companies forward.