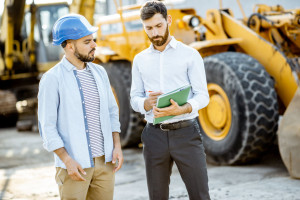 When it comes to financing a large-equipment purchase, you have several options from which to choose. As banks and other lenders strive to stay competitive, and financial technology (fintech) advances, the resources available to businesses are growing. Yet access to capital is one of several factors you should consider when making a financial decision for your company, and some less obvious considerations can have a major impact on your overall experience.
One of those key factors is the degree to which you'll receive personalized service before, during and after your financing decision. Although automation is helpful and advancing rapidly, with 85 million jobs set to be automated by 2025 by one estimate, helpful interaction with a qualified human being takes customer service to the next level.
Here are three reasons to consider working with a financial service provider that prioritizes personalized service.
Reason #1: Personalized service acknowledges you're not a cookie-cutter business
A trusted financial provider will sit down with you and review your business objectives. Although many industries rely on heavy equipment to perform work, every organization within those market segments has unique priorities, needs and balance sheets. You need someone who knows your industry—and your individual business—well enough to ask questions, offer strategic recommendations and provide you with multiple pathways to reach your objectives. Personalized service acknowledges that while financial deals could be conducted in a transactional way, it's important to build long-lasting relationships that will serve your business well for years to come.
Reason #2: Personalized service operates on your timetable, not the other way around
Too many business owners feel backed into a corner in cases where they need equipment to move forward with a big list of projects. This is no fun if you're an entrepreneur with big dreams for growth or a founder simply trying to make it through the fiscal year. You deserve a financial partner who will understand your needs, your budget and the time horizon in which you need financing—and the repercussions those decisions will have for your business. Seek out personalized service because it means that your financing partner has taken the time to appreciate the full context of your business environment and will be there at every step of the way. You won't have to deal with hard or aggressive sales tactics or repeatedly draw your financial boundaries. You'll have a partner who understands what you need and is ready to wait for the right time to move forward with a financing decision.
Reason #3: Personalized service gives you the integrity and autonomy you deserve
You get to run your business for a reason: You founded it, own it or manage an important piece of it. As a result, you get to decide how and when you pursue financing to meet your business needs, whether that's meeting a customer's needs, growing your organization or providing greater operating flexibility. A financial partner that prioritizes personalized service will honor you and your leadership role in the business. They'll lean on your experiences and insights to guide any future financial deals together. That level of trust and respect leads to strong working relationships.
No matter where you're at in the financial decision-making process, Commercial Funding Partners is here to help. We offer the kind of personalized service you deserve, on your schedule, and help you avoid the stress and overwhelm that other transaction-focused financial companies might provide. To learn more about how we can help you with your business equipment transactions, visit the Commercial Funding Partners website or call 801-545-4000.