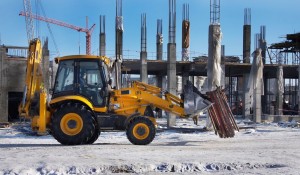 Trust is the underpinning of every great relationship in life. If you are married, you understand the importance of a strong working relationship with your spouse. If you have ever held a leadership role at work, you recognize the importance of cultivating trust with your team. The same principle applies to the relationship needed to secure big equipment purchases.
Why is trust necessary to these kinds of purchases? There are a few key reasons.
First, trust is an essential part of a financing relationship because of what's at stake. Large equipment typically is expensive. Whether you work in construction or agriculture, mining or forestry, big machinery is going to play a key role in your business. You need to make sure it will function at the highest possible level. You need to minimize downtime and maximize productive output. And you don't want to sink hundreds of thousands of dollars into a lemon. Your ability to meet clients' deadlines and keep workers safe is dependent in part upon the kind of equipment you choose to bring to the job site.
Second, financing big equipment requires trust because you need to have a clear understanding of the purchase terms. No one likes being surprised by an unexpectedly large bill with lots of hidden conditions. You need to go into a financing agreement with clarity on factors such as total purchase price, financing terms such as interest rates and payback timeline, tax implications and much more. It's important that you finance with someone who has your back and who brings the ability to coach you into what's best for you as a professional and for your business. Financing can be a gift to your organization provide you go about it with the right information up front.
Third, it's important to develop trust in the early stages of any financing relationship because it's just that—a relationship. Your connection to your financing partner will be a long-lasting component of your career. Typically, organizations that seek financing plan to do so again and again. Consequently, don't develop a financing relationship that requires minimal investment on the part of either party. Find a financing partner with whom you enjoy working. They should have your back, ask good questions, understand your business and be able to speak up if they see something that needs to be addressed. Financing relationships can provide a lot of joy and peace of mind in your business if you provide the proper structure.
If you are seeking to finance large equipment, you can trust the experts at Commercial Funding Partners. We'll provide the solid foundation needed for the next phase of growth in your business. To learn more, call 801-545-4000 or visit our website.